Your App, Built by RTS is a fast and easy platform for customers to purchase tickets, concessions (Web-Based App, native app capabilities COMING SOON!), and to keep up to date with your locations. This section will discuss Your App's overall features, breakdown specific ticketing and concession portion of the app, costs, and the app setup process.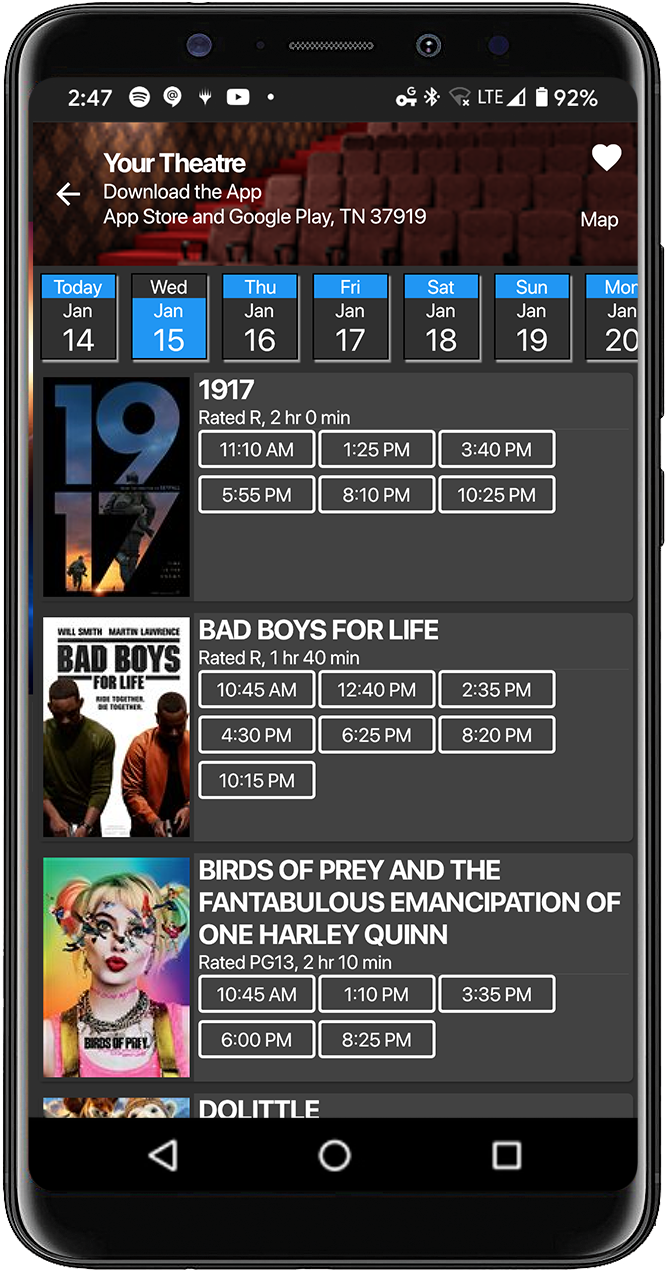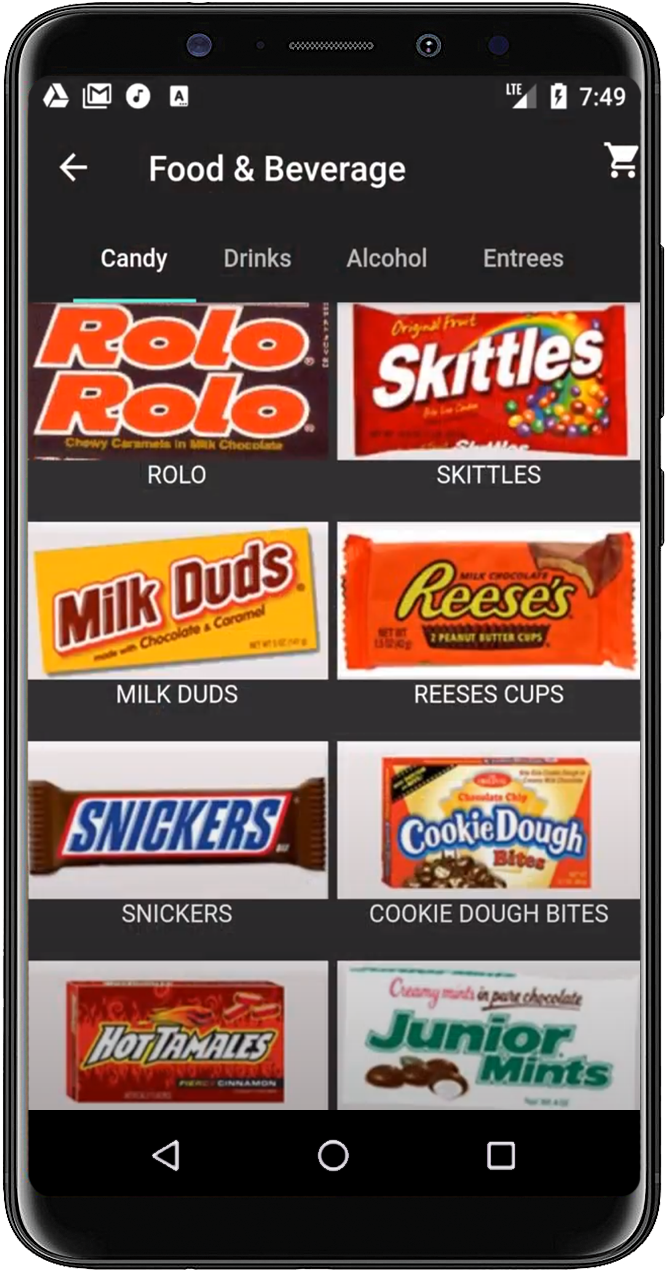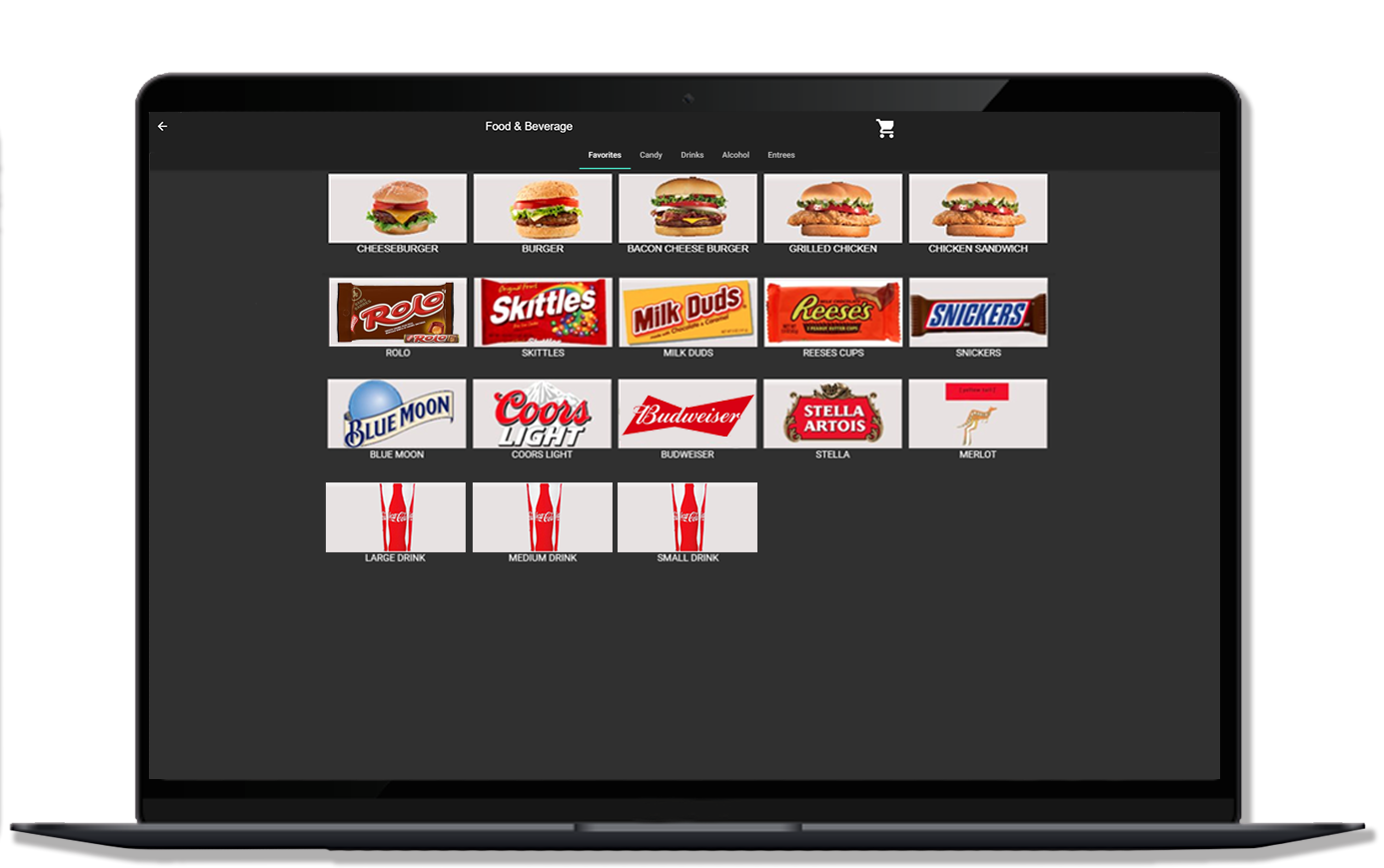 Intuitive checkout process
Built by RTS
Branded to your location
Secured, stored checkout information for a quick checkout process
Promotes social distancing and contactless transactions
Works seamlessly with the RTS Usher App
Charge an app convenience fee to your users - per-ticket and per-transaction options

"Pay At Counter" allows a customer to give a manual payment code or scannable QR code to your cashier so they can make purchases without physically presenting their credit card or gift card (See our KB Article Pay At Counter for more info about this feature)
Provide your customers with a reliable ticketing app, built by your RTS developers.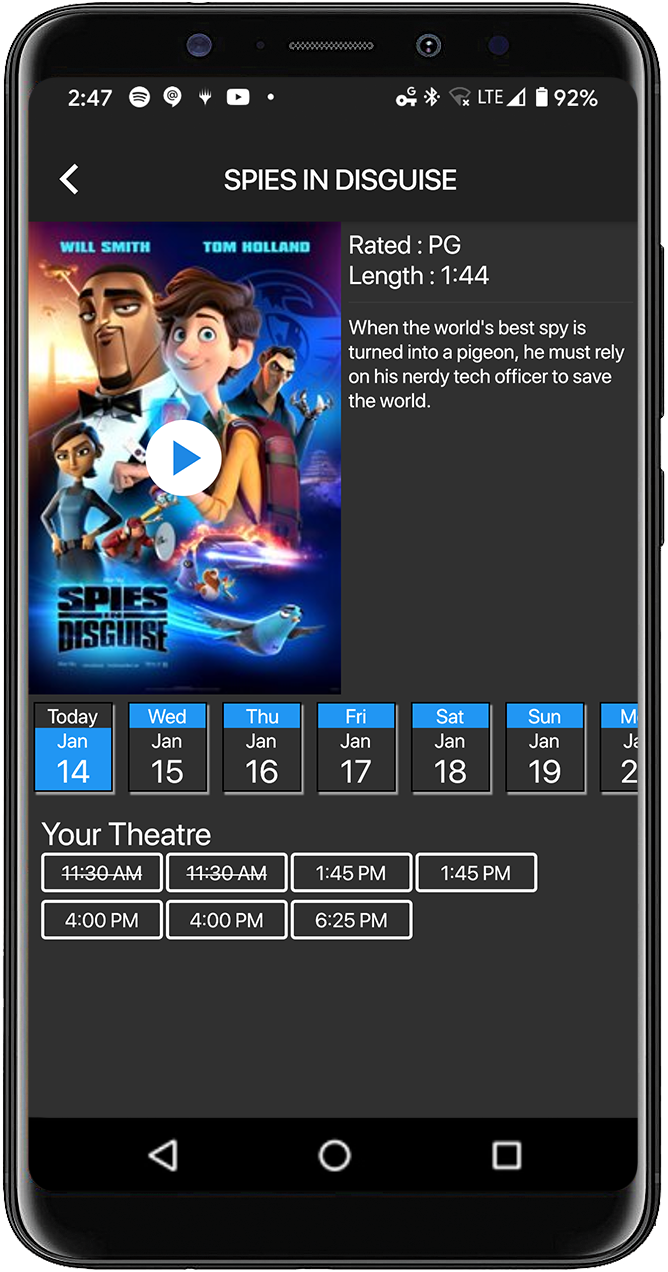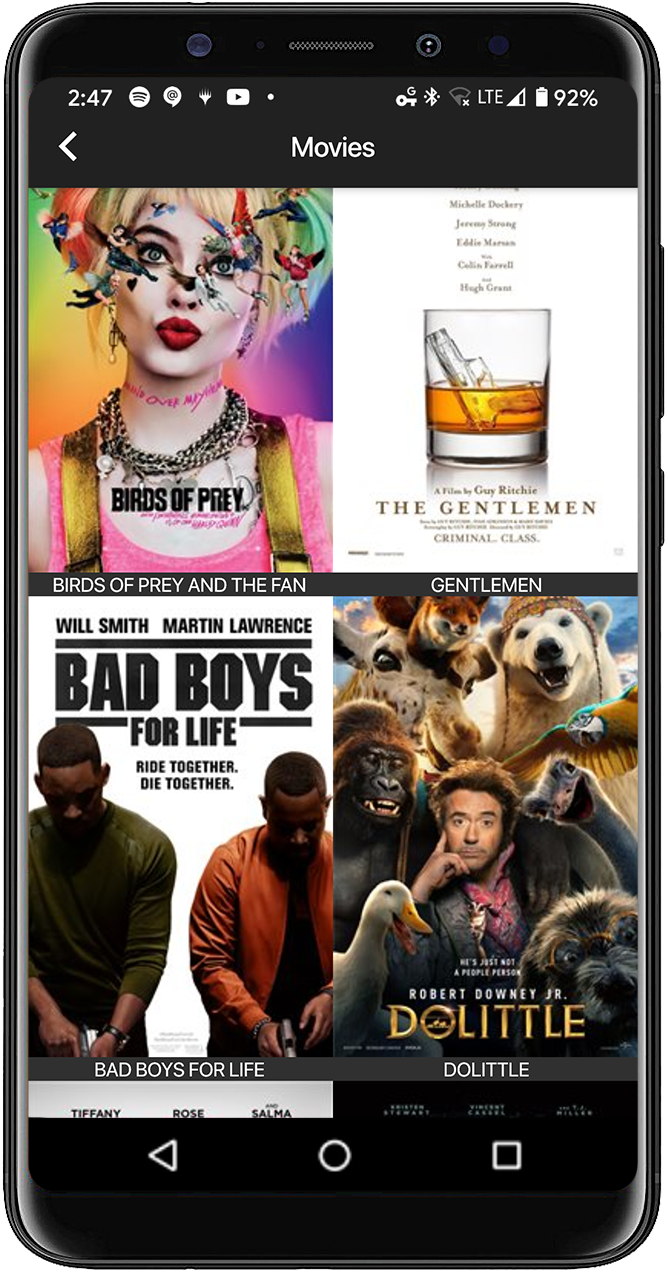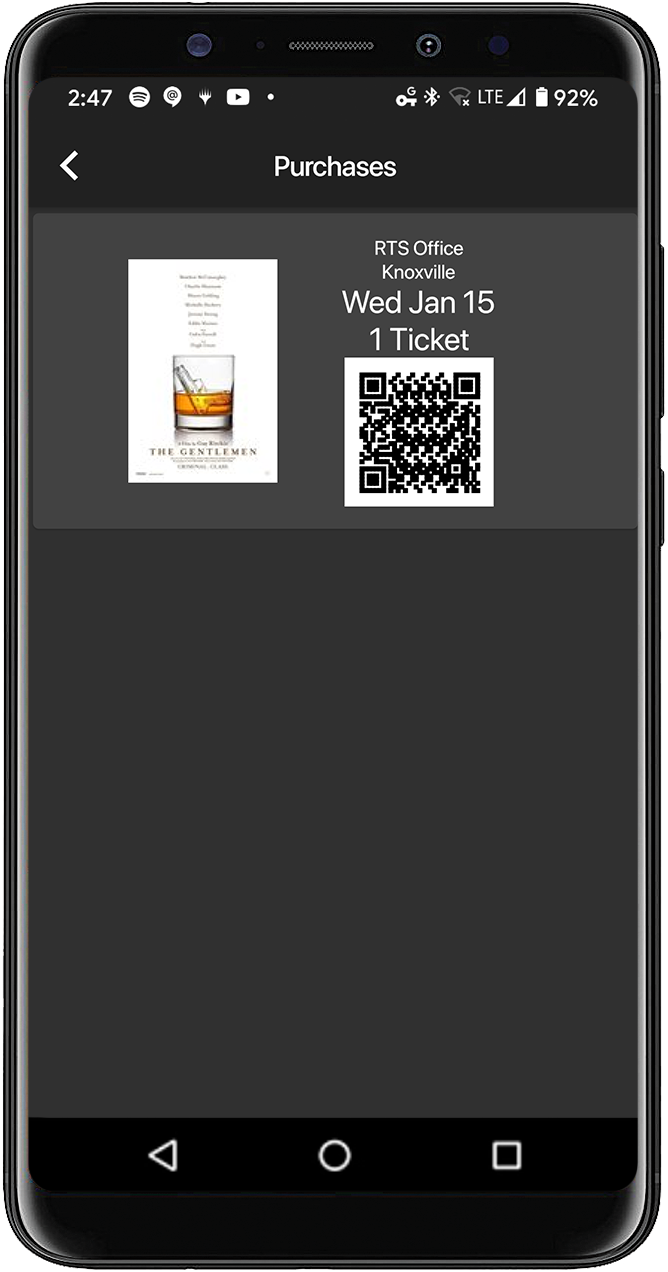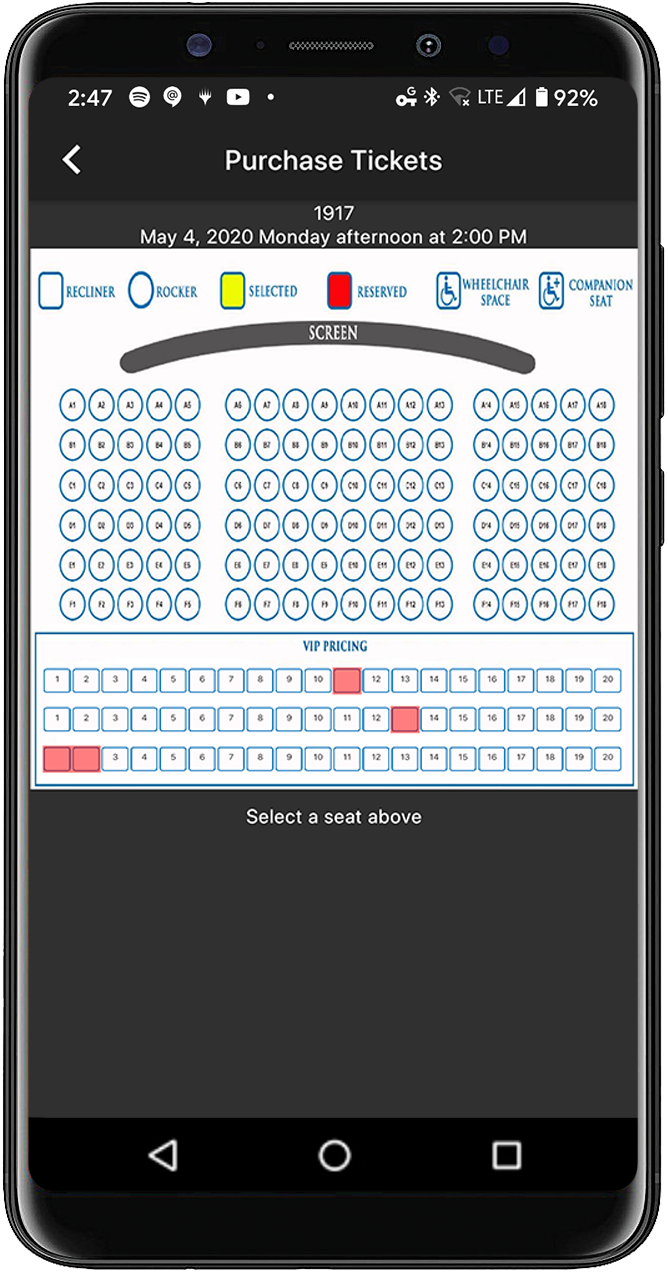 Movie page with showtime details and trailers
Send custom notifications to your customers, alerting them of upcoming showtimes and events.
GPS capable features
Earn and redeem loyalty points
Showcase amenities and features
Drive your concession sales by putting the ordering power directly in your customer's hands. Customers can purchase food and beverages directly from their mobile device and receive a notification when their order is ready, creating a fluid purchasing experience.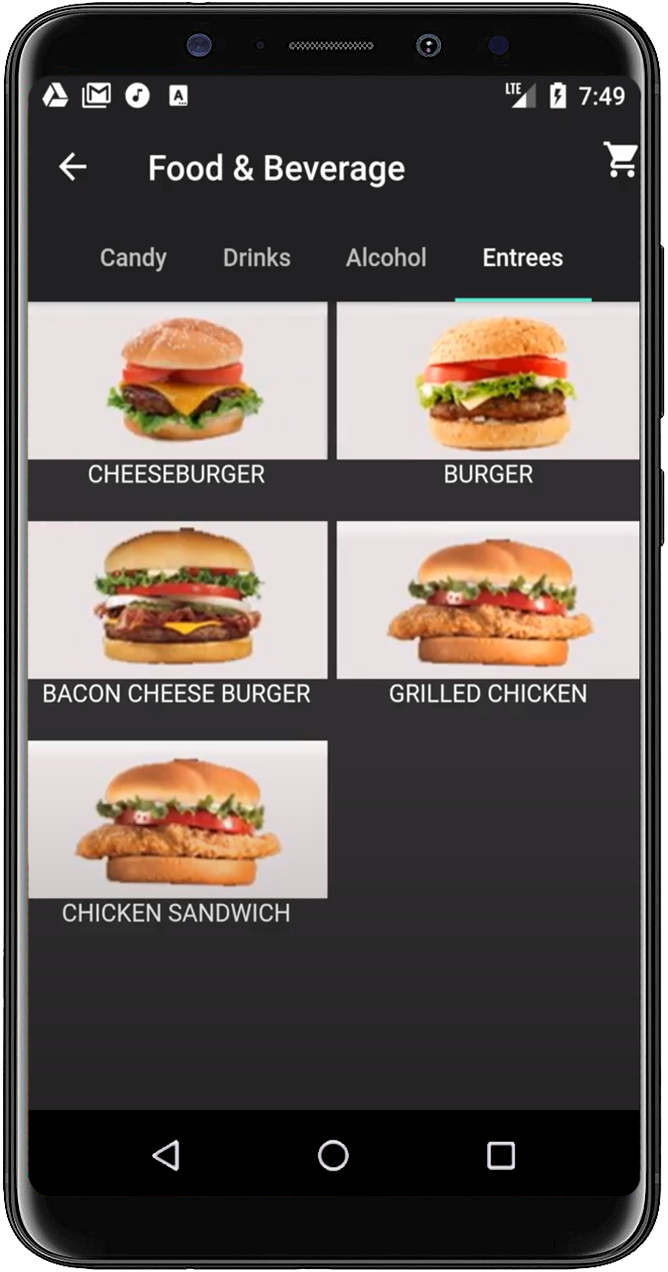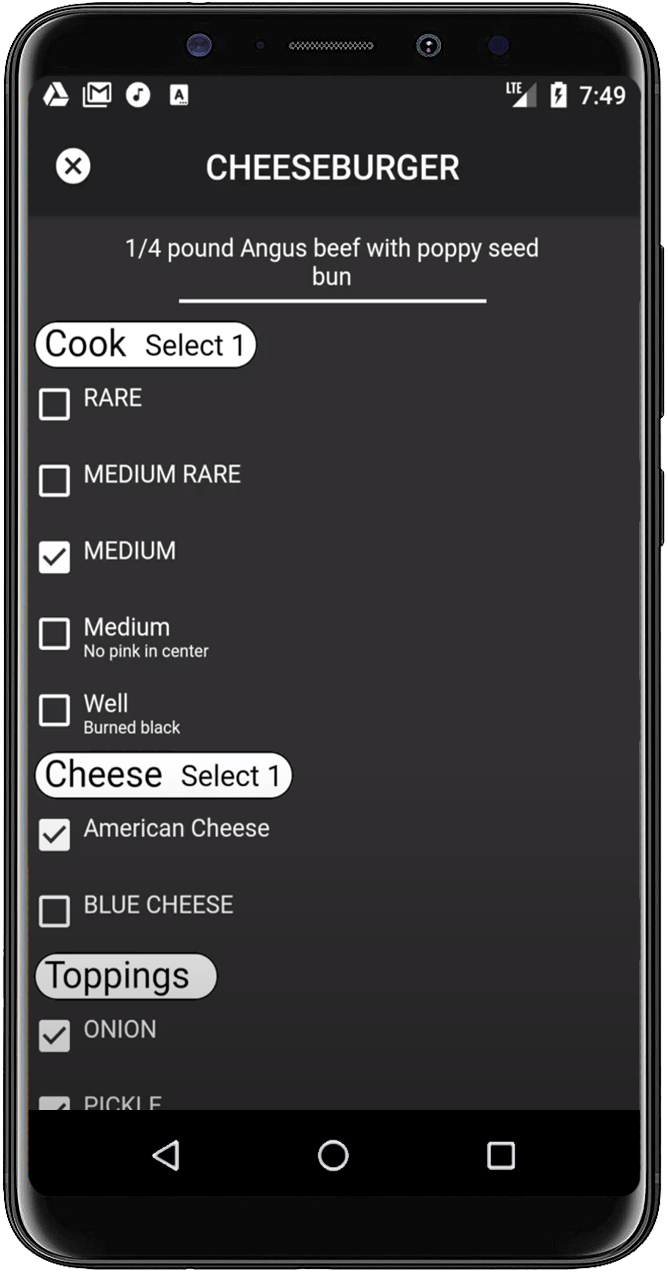 Direct notification when order is ready
Option for pickup or delivery
Orders are dynamically routed to kitchen printers or kitchen display system
Online web platform also available (must-have app setup too)
Geofence features - ensure orders are placed at your location
Alert your customers to special events, new items, and upcoming performances. Notifications display even if the app is not open.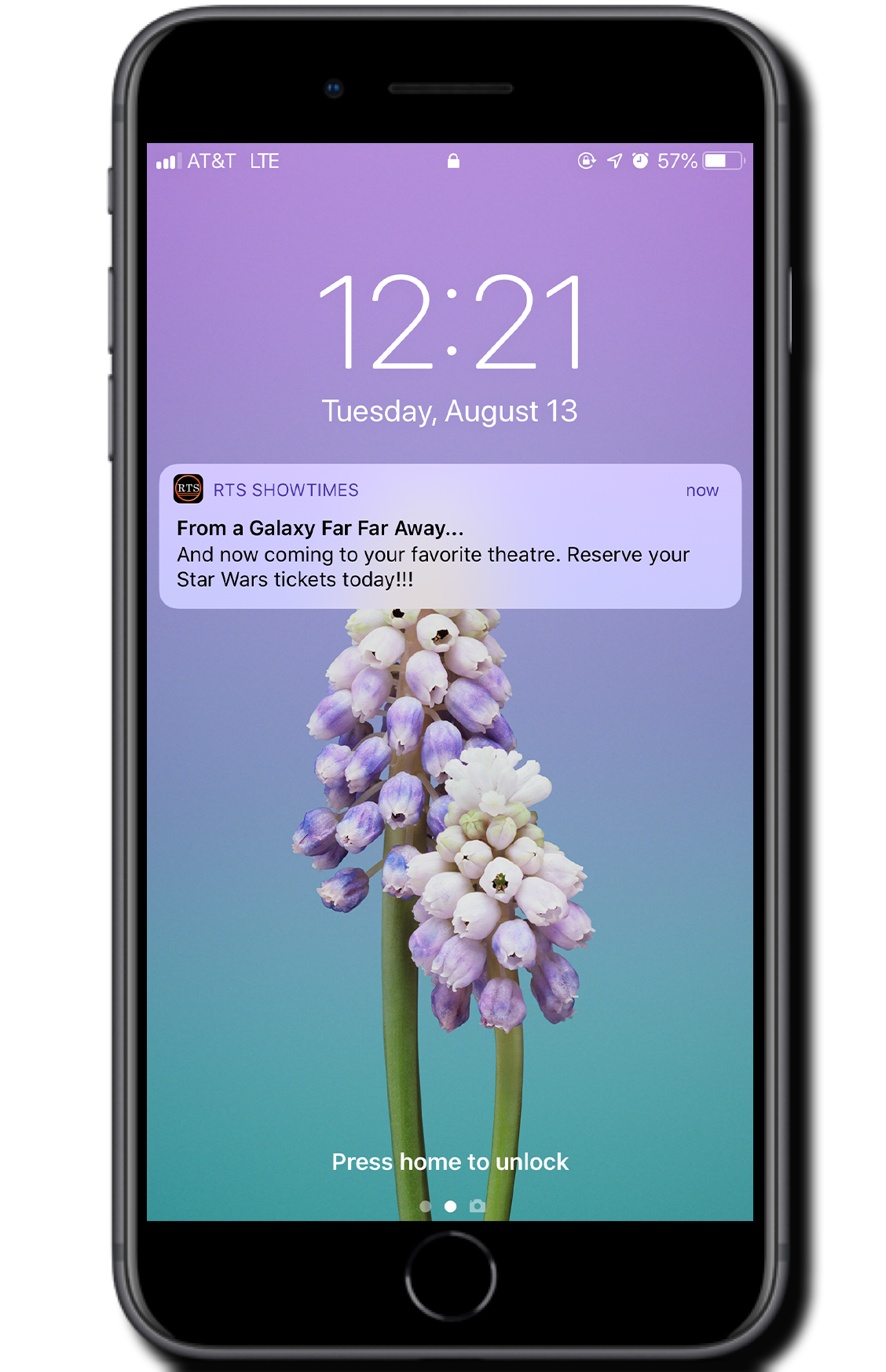 In addition to ordering concessions from a mobile device, customers can also purchase food and beverages from a web browser.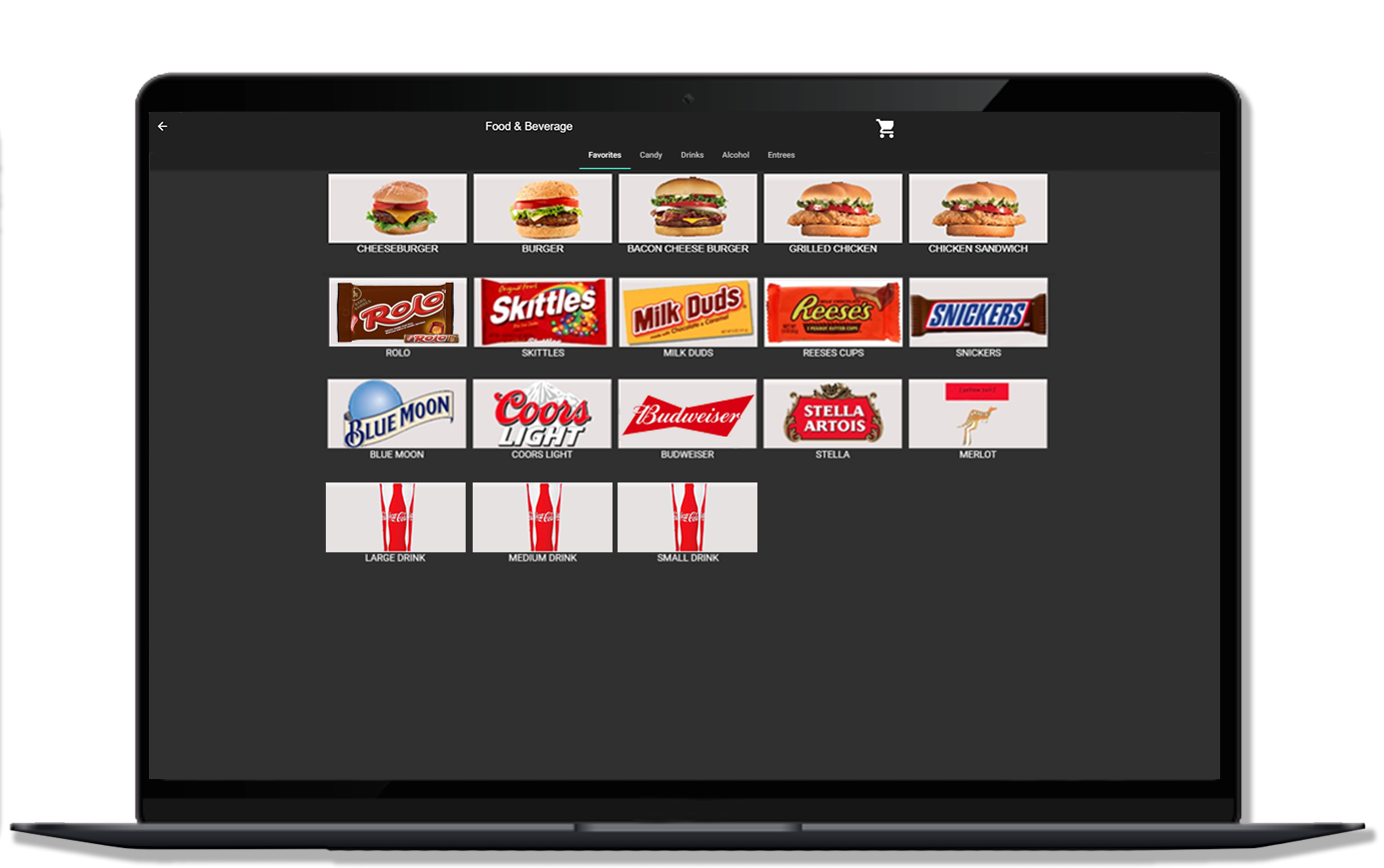 If you have multiple locations, we can build your app in one of two ways:


Single app for all locations.

Each location has it's own dedicated app.


With one app encompassing all of your locations, your customers can choose individual sites as a "favorite" location. When customers utilize the favorite feature, they can still access information and purchase tickets or concessions of non-favorited sites. Also, your app will sort sites for the user based on which is closest to them.


If you choose individual apps for your locations, your customers will need to download an app for each site they visit.

Example App Configurations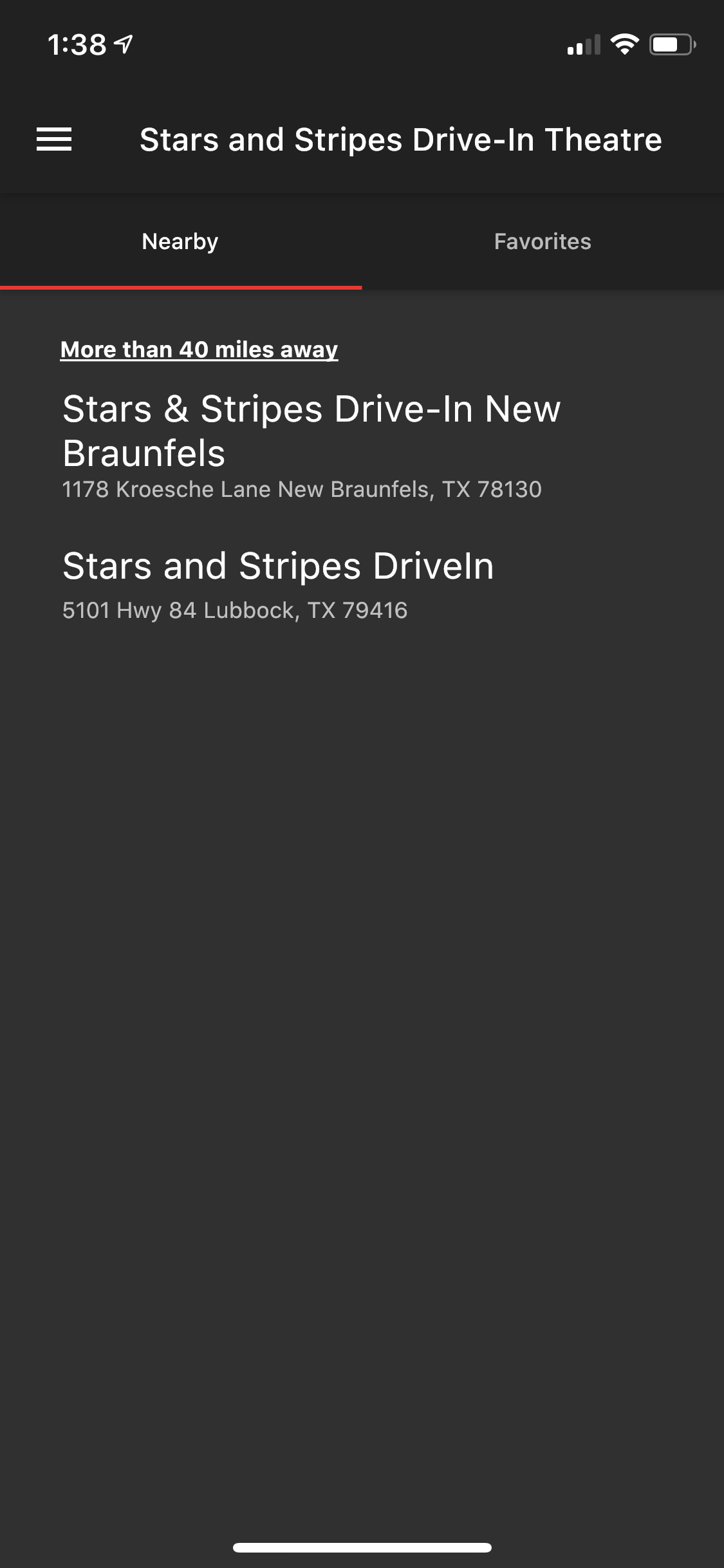 Multiple Locations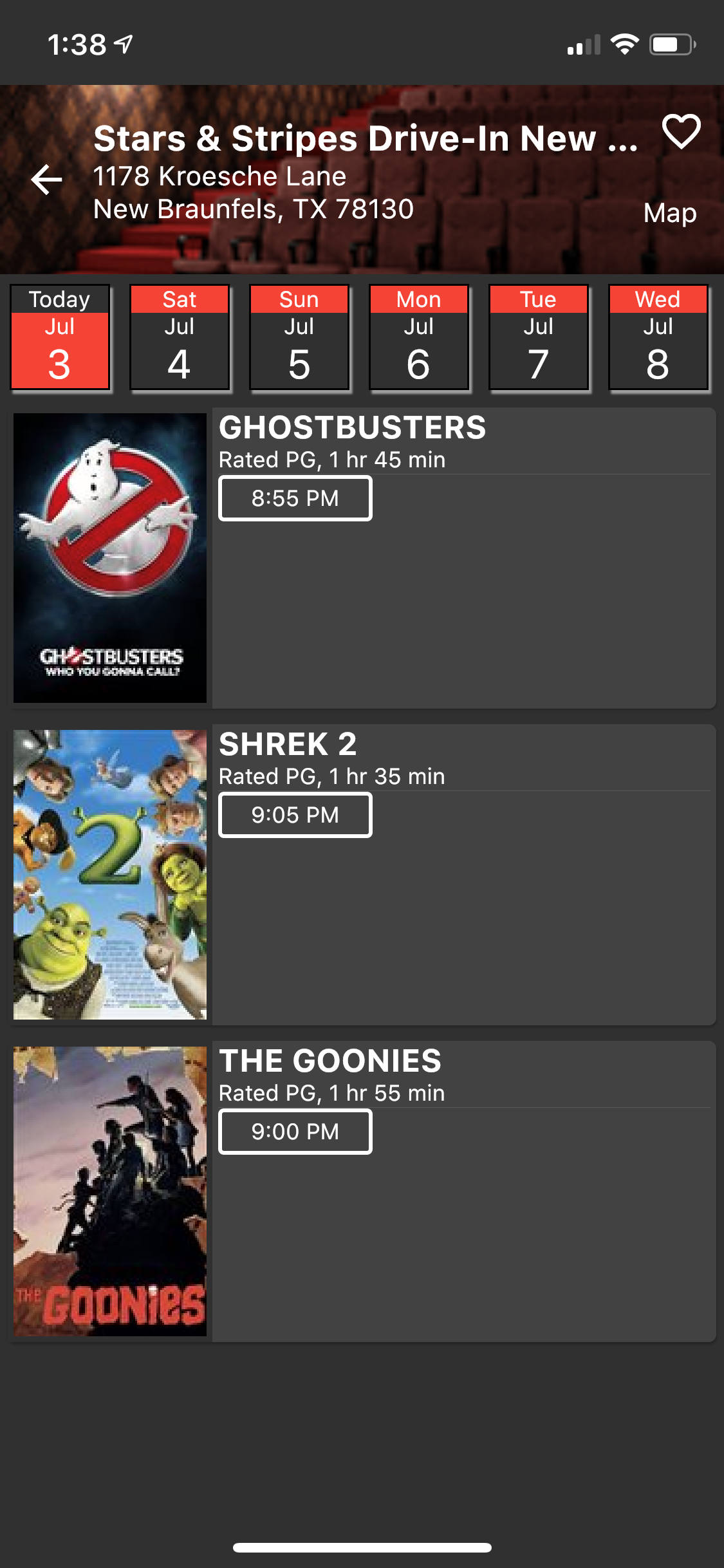 Single Location
App Savings for Customers

Customers can save on Internet ticking fees by enabling auto-location on their app.
See video for how:
To create your App please fill out the setup form and email it to sales@rts-solutions.com

Setup Forms: HERE

Or use this one if needed the other form is unavailable:
App Setup Form

To get your app started we will need:
Completed app form
High-res graphic of your logo (PNG format 512px by 512px)
Please note: our Media Team is happy to assist with creating logos
Completed ACH withdrawal form (provided with setup form)
Voided check

Setup Process - How does RTS build your location branded app?
RTS receives your setup form, high-res logo, and ACH information. This data is sent to our app developers to begin building your app.
Your app will have a black background with accent colors. The RTS development team will choose your accent colors based on your website. If you are currently going through a rebranding, please let us know.
After internal testing, your app is released to the Google Play and Apple App Store for review. Full releases may take a few days for final review.
Please note: Due to COVID-19, app store approvals are experiencing longer approval times.
Your app is approved! Our team will notify you your app is ready to go.
When our team notifies you, we will provide custom marketing materials. Marketing materials include:

App fliers with a QR code. The QR code will direct customers to the appropriate store to download your app.
Digital Signage displays

RTS will also encourage your app downloads by enabling a prompt on your RTN page. RTS will detect if a customer is purchasing tickets on a mobile device, and prompt the user to download the mobile app.
Once your app is live, you will be able to send notifications to your app users. Our team will enable access to the notification module from the marketing contacts provided on your setup form.
After you pass $100 in sales, our accounting team will deduct the funds from your ACH account. The account information is aggregated from your ACH form and voided check. Additional accounting information can be found in our Cost and Funding section.
Do you already have an app? We can transfer your app data so you may keep all of your users. The following link explains Android app data transfers. Our sales team can provide additional information regarding iOS transfers.

RTS Sales

(865) 212-9703
Have any questions or are you ready to get started building your app? Please contact our sales team.