RTS Servers and Cloud Services
While we always recommend that your primary RTS server and its replication partner remain on-site in your theater, there may be instances where you would have an RTS server running on a cloud platform.

Use cases for this would be:

Mag Card Server (centralized gift and loyalty data across your chain)

Corporate Database Server (centralized circuit-wide reporting)
There are many cloud services available with various purchase plans dependent on the hardware, storage space and bandwidth to and from the server.

* In all cases a Windows OS is required. Linux will not work with RTS.
Provided below is an example setup some RTS customers are using:

Scroll to the bottom of the Ionos page and Choose Cloud Server L and make sure to select Windows Server 2022 as the operating system.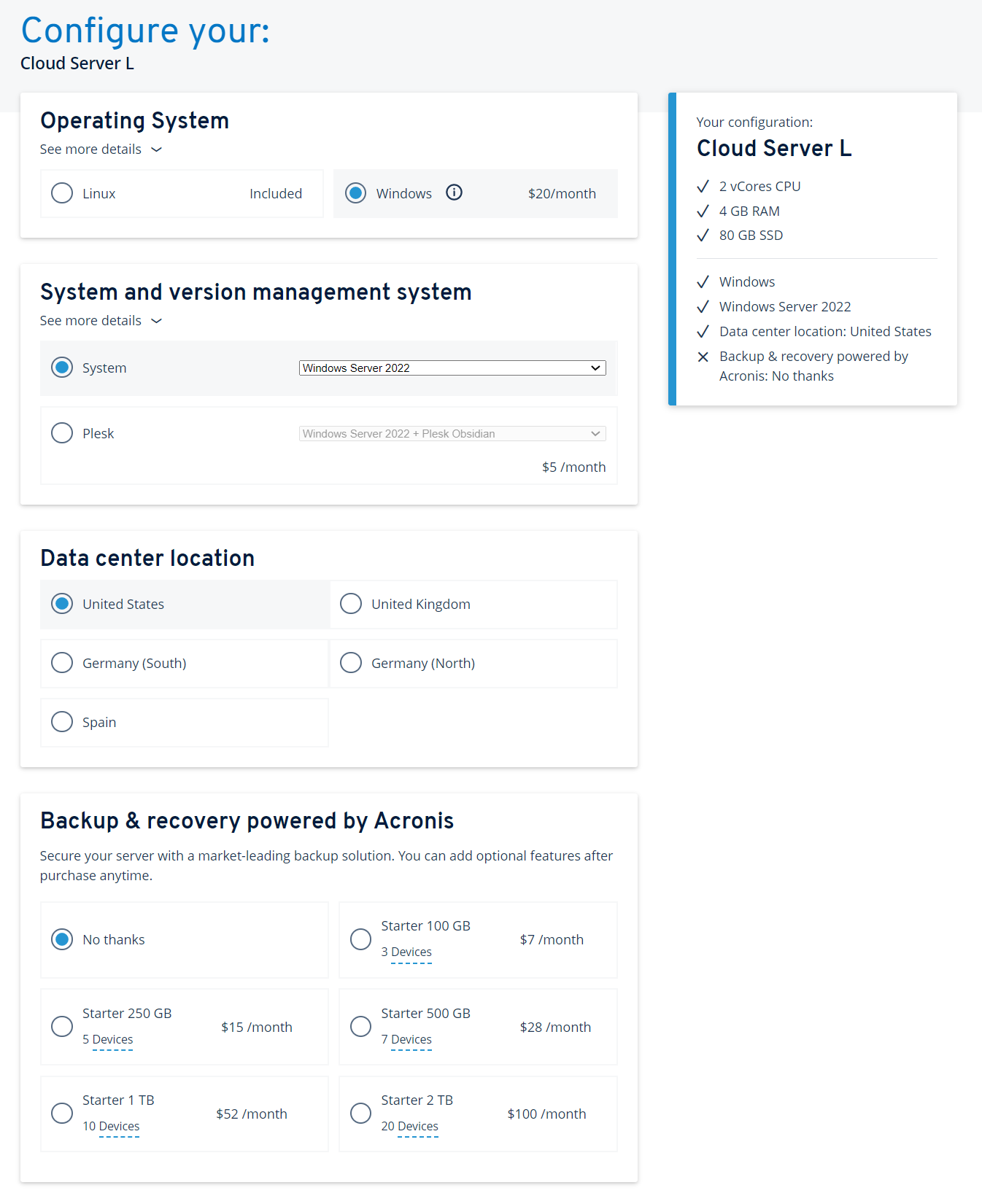 Again, this is but one example of the many cloud services available. This guide should help you navigate similar server options on other platforms.
For any questions related to cloud servers please call RTS Sales at 865-212-9703 ext: 140
Related Articles

RTS App

Your App, Built by RTS is a fast and easy platform for customers to purchase tickets, concessions (Web-Based App, native app capabilities COMING SOON!), and to keep up to date with your locations. This section will discuss Your App's overall ...

Contacting RTS

For any questions, comments or concerns you can reach out to our 24/7 support! You can email us directly by department or call us and just follow the automated prompts to reach the department that best suits your needs. Keep in mind MOST of your ...

RTS API 2

The latest version of the documentation can be accessed at: https://www.readyticket.net/download/api2.zip Costs As with all RTS API interfaces there are costs involved at the location level. Please contact sales for more information. There is no cost ...

Downloading an RTS Demo

To download and install your RTS Demo -> http://www.readyticket.net/download/net/setup.exe Below is your guide to walk through installing and walking through your RTS Demo. However, our Sales department is available for any questions you may have or ...

Getting Started with RTS: Everything you need to know

Below is a list of links, articles and information on helping you get started with RTS and setting up your RTS Software If you click the link below you will find everything you need to know about RTS and getting started with us. You will find all of ...